Research the Board or Commission you are interested in serving on, using the links below. Find out how it was established, how it is funded and staffed, its duties and responsibilities, current members and their terms, and other frequently asked questions.
Boards & Commissions Appointments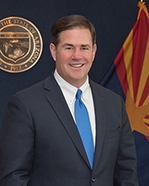 Governor Doug Ducey appoints approximately 2,000 people to 220 Boards, Commissions, Councils, Committees, & Task Forces.
Learn how to be considered for an appointment.
Boards and Commissions Profiles
Research the Board or Commission you are interested in serving on; find out how it was established, how it is funded and staffed, its duties and responsibilities, current members and their terms, and more... View Boards and Commissions list
Contact Us
Alyssa Foster, Director
Boards and Commissions
1700 W. Washington Street, Suite 250
Phoenix, AZ 85007